22

UE 1

Volker Bartsch
2000, Bronze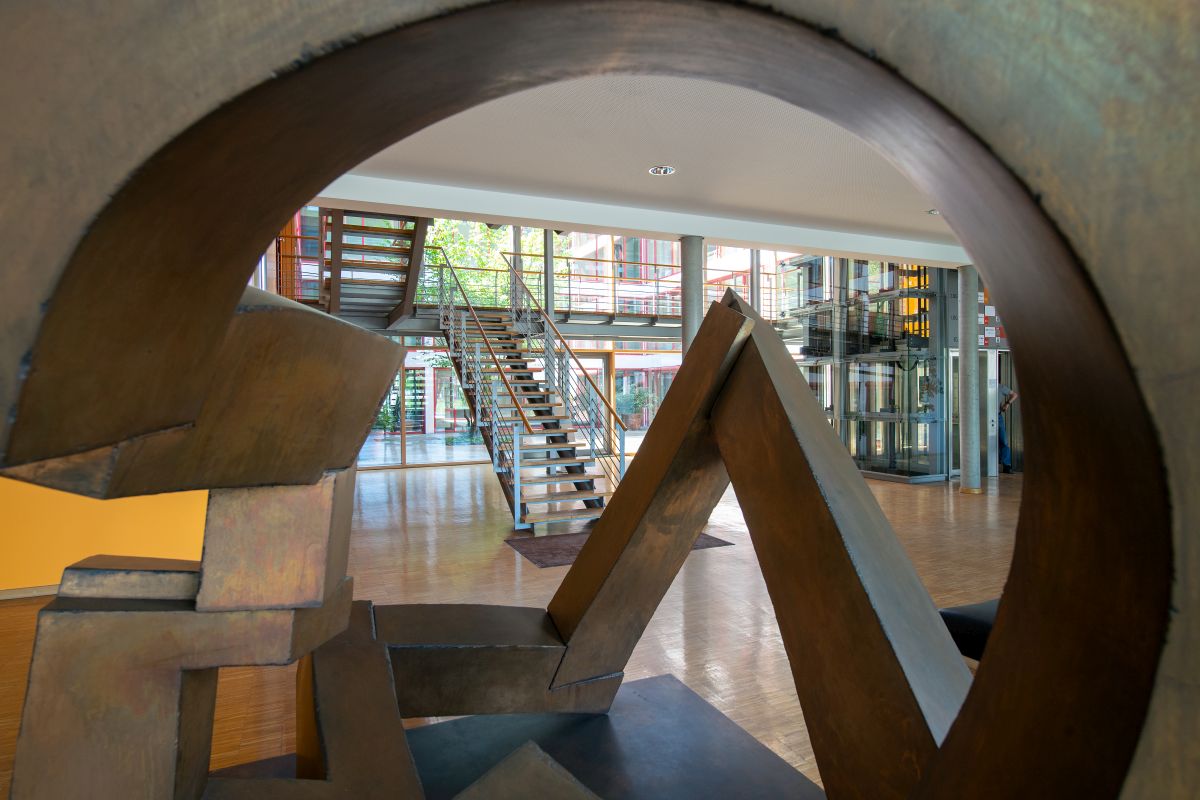 Another sculpture is located in house 85, visible through the windows to the left of the entrance. It is the bronze sculpture "UE 1" by the German painter, graphic artist and sculptor Volker Bartsch.
Volker Bartsch was born in Goslar in 1953. Until 1979 he studied sculpture at the University of Arts in Berlin. In 1977 he began to work with the material bronze; in 1978 he built up his own bronze foundry. The following year he became a master student. This was followed by stays in Portugal, where he worked on natural stone structures, as well as Tuscany and Tanger und Marrakesh in northern Africa, where he increasingly turned to bronze and refined casting techniques.
In 1985 Bartsch was commissioned to design the ammonite fountain on Olof-Palme-Platz in Berlin. This was his first commission for work in public spaces, followed by over 40 others. In addition, his works can be seen in over 50 solo and group exhibitions worldwide. For the fountain, Bartsch combined the natural stone slate with bronze sculptures to create a primeval-geological installation that is only fully revealed from a bird's eye view. Playing with the viewer's perspective became a characteristic of Bartsch's sculptures: "We are trained in such a way that we follow, see everything through a certain grid system. And I deliberately break up these grids (...) by unhinging things" (1).
In the following years, Bartsch continued to work with bronze: "Not for nothing (...) the holiest of sculpture" (1), as he says. In 1992, in order to emphasize the bronze character, Bartsch began to weld his sculptures instead of casting them. In doing so, Bartsch used "the visible welds as design features for the linear structuring of the surfaces" (1). If you get closer you will see even more in them, "these are landscapes" (1).
His passion for restoring vintage cars gave him the idea to construct self-supporting sculptures. Well known are his large sculptures "Brückenschlag" (bridge building) in front of the BHF-BANK headquarters in Frankfurt, and "Perspektiven" (perspectives) on the campus of the FU Berlin, which is considered the largest bronze sculpture in Europe.
Like these, UE 1 belongs to the "Magic of Gates" group of works. Gates have held a great fascination for Volker Bartsch since his childhood. "All of them also represent a boundary, namely that of the before and the behind. It is always quite decisive on which side of a gate you are" (2).
The name UE I refers to the original clients of the work, the collector couple Gernot and Ute Ernst. They had commissioned the sculpture for the courtyard of the Delbrück Bank.
UE I consists of bronze elements that appear layered, forming passageways or portals and describing fictitious spaces. The individual elements are each composed of several parts asymmetrically, always without right angles.
The smooth bronze surfaces are punctuated by distinctive, scarred welds. The sculpture, created at an angle, balances at three points on a pedestal. The construction plays with statics and stability and invites the viewer to change the point of view several times and again and again. The principle of changing perspectives is typical of Bartsch's large sculptures: "From each viewing position, completely new perspectives and spatial experiences reveal themselves"(3).
This can be understood as a reference to the work of the Berlin-Buch campus, whose research institutions collaborate to analyze biomedical issues from different perspectives.
The sculpture is on loan from the Ernst family.
With materials from:
https://de.wikipedia.org/wiki/Volker_Bartsch
Stand 03.11.2021
(1) Film "Volker Bartsch, Bildhauer - Maler - Graphiker"
(2) http://volker-bartsch.de/bereiche/werkgruppen/magie-der-tore/
http://volker-bartsch.de/
Stand 06.05.2023
(3) Zitat aus: https://www.fu-berlin.de/presse/informationen/fup/2007/fup_07_193/index.html
Stand 03.11.2021