14

Leuchttürme

Olafur Eliasson
2000, Light installation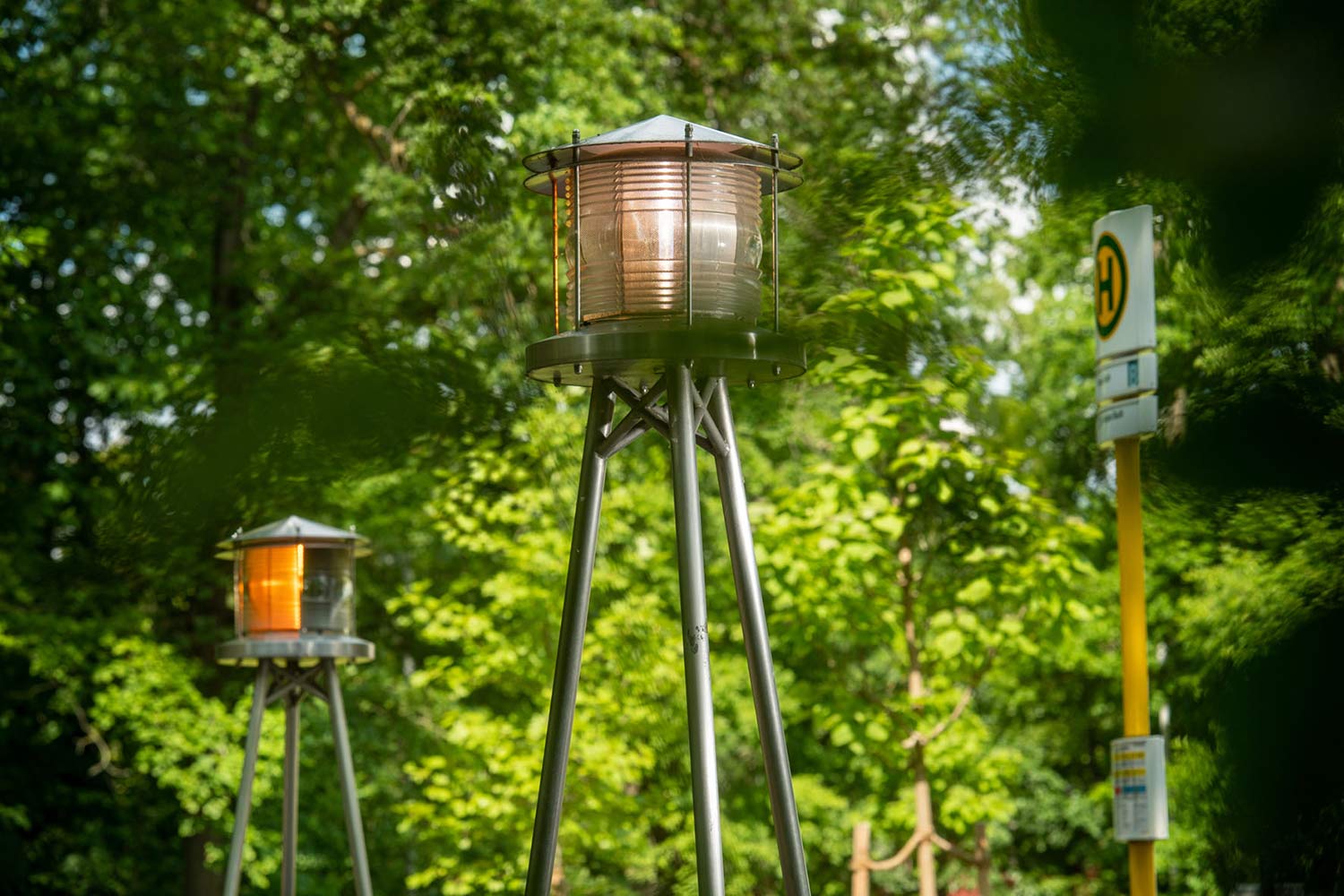 On both sides of the street are steel tripods bearing colorful lights. This installation was created by Olafur Eliasson and is entitled "Leuchttürme" (Lighthouses).
Eliasson was born in 1967 in Denmark. As a child he spent considerable time in Iceland; later he studied at the Royal Academy of Art in Copenhagen. He has had numerous solo exhibitions since 1997, and his works – ranging from installations, to paintings, sculptures, photographs and films – can be seen in museums across the world.
In 2003 he represented Denmark at the 50th Biennale in Venice. Following a call to the University of Arts in Berlin, he founded an institute for spatial experimentation there and headed it until 2014. He has been a member of the Academy of Arts since 2012, and lives in Berlin and Copenhagen.
Olafur Eliasson's work is primarily concerned with physical phenomena in nature – light, movement, or reflections. In this piece, each of the lighthouse lanterns is dedicated to a color field, which divides the surrounding environment into colored segments. A person passing by on foot or by car notices the change in color.
This points to the fact that the color and details of the world are dependent on the perspective of the viewer.
Modern research uses the terms "Leuchtturm" projects and institutes that receive special funding and are expected to have a potent influence on society. The title evokes associations. One interpretation is that one should take care not to see oneself as a beacon of science. Another points to the transdisciplinary nature of research. From this perspective the colored segments of light might be seen as an allegory for scientific subdisciplines. They seem to be separate in the way colors of the spectrum do. But upon a closer examination of the installation, the borders between colors seem to dissolve. The traditional distinctions between scientific subdisciplines are similarly artificial. Perhaps this is a call to look for knowledge in all directions.
The installation was purchased for the sculpture park in 2000, with funds from the LOTTO-Stiftung Berlin.